---
Product Description
Tag! You're NOT It!
Here's How You Can Free Yourself From Skin Tags – Once & For All!
Don't you hate it when a skin tag appears on your forehead, chin, or fingers?
Wouldn't you like a simple, fuss-free, and effective way to eliminate skin tags without any discomfort?
If you are reading this, you are probably looking for a safe and painless skin tag removal solution. Well, your search is over!
Introducing The Everlom Skin Tag Remover Set!
Now you don't have to put up with skin tags that make your skin look unappealing and take a toll on your confidence anymore.
The Everlom skin tag removal kit is here to help you get rid of those annoying growths easily and safely – while sitting on your comfy couch.
And The Best Part?
It's 100% pain-free. You've suffered enough. Let the Everlom skin-tag removal tool take care of the rest.
Keep Your Skin Silky Smooth & Skin Tag-Free
While skin tags are simply painless benign growths on your epidermis, they can really affect your confidence. Especially if one of them appears on your chin, forehead, face, or neck, ruining your perfect complexion.
Ideal For Small To Medium Skin Tags Only
Now you can eliminate small to medium sized (2mm to 5mm) skin tags from almost any part of your body – including your face, forehead, ears, neck, chin, under breast area, underarms, legs, fingers, hands, or toes.
WARNING: This skin tag removal tool is NOT SUITABLE for sensitive skin around your eyes.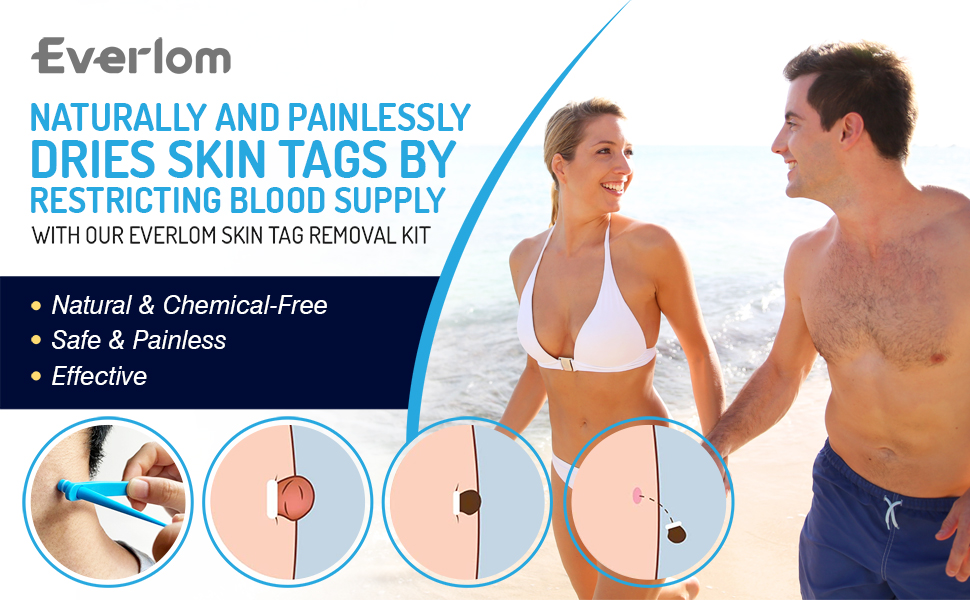 Top 5 Reasons To Choose The Everlom Skin Tag Remover
Natural & Chemical-Free

: no harsh chemicals, no secret ingredients.

Safe & Painless

: simply cut off the blood supply and wait for your skin tag to fall off naturally after a few days.

User-Friendly

: easy-to-follow instructions will make the process easier than ever.

All-Inclusive

: our complete set includes everything you need to get rid of skin tags and take care of your skin.

Effective

: ideal for people who develop skin tags on a regular basis and need an effective treatment.
Caution:
Do use the fingernail to touch the band, it will break it.
Not suitable for people with rubber-related allergies. Consult your doctor for more information.
No More Skin Tags In A Few Days
Depending on the size and location of your skin tag, it might take 3-14 or even more days to effectively cut off the blood supply and eliminate the tag.
Not suitable for people with rubber-related allergies.
What You Get:
1 x Micro Skin Tag Removal Cone

1 x Micro Band Remover

24 x Micro Bands

12 x Cleansing Wipes

36 x Skin Tag Repair Patches
Micro Skin Tag Removal Kit Removes Skin Tag Sized 2mm to 5mm
Important information
Safety Information
read manual
Indications
Micro skin tag remover
Legal Disclaimer
read manual